Game Diary
Here you can follow the progression of the game. Warning! High nerd factor…
March 24 2012
Things has come to a stagnation in our game development. Time absorbing things in life (like studying, children making party pages) has made the space for F1 game making much less. Please enjoy our earlier games until later!
March 2 2011
The delay of 2011 F1 opening has given us a chance to increase the game experience of the first F1 2011 Race Track demo. The game will still be in sweet 2D and it will feel fresh with it's new features. Race mode, optional game views and improved graphics are some of the things we are working on right now.
But hey, DON'T WORRY! It will still be "ugly but fast"

.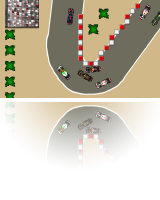 (sneak peak from F1 2011 Race Track Beta version)
February7 2011
So, a new year of F1 stands ahead of us and the plans for the new "F1 2011 Race Track" is being put into reality. Our goal this years is to increase the game experience by adding some cool new features to the game. Please try the developing demos and see what you think. We will follow the disussions on the forum so every opinion i valuable for us.
October 25, 2010: The full game "F1 2010 Timetrack" is released!
Finally! After many hours of constructing, coding, composing music, testing, re-testing… The game is finished! Fees really great! Thanks to my dutch coding friend "Blonde Llama" the game got some really nice upgrades the last weeks. This includes highscore, cool interface, weather options, nice structurated menus and the possibility to add all my heavy mp3 music without crashing the game

Early July, 2010: F1-game-download.com is launched!

A big step for mankind. Taking up to much space on former homepage vildbas.com, this oasis of pixalerated F1 games takes place.
April 12, 2010: Great news in Shanghai Game!
After making F1 2010 Bahrain, Australia and Malaysia in much or less the same style, great improvments were added to F1 2010 China (Shanghai). New car physics (cool bouncing instead of unnatural subfloating), the opportunity to choose between the 12 teams and 24 drivers. Each and every driver were also given individual amounts of attributes (top speed, braking, acceleration and steering), this making the player devlop his/her own driving style.
Now the news of this little game was spread to swedish car enthusiasts through Automotorsports news letter causing about 1000 downloads in three days.
Great news for me and them

!
March 8, 2010: Bahrain track release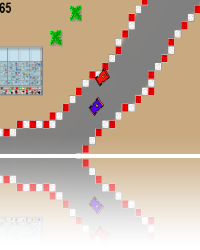 This day I released my first game on Youtube and vildbas.com. There was only one car to drive, no crasch physics (the car floated under the AI competitors, cool music and the public response was massive.
Not really, but a couple of the guys at the job liked it.
February 2010
In February I read about "Game Maker" in a swedish game magazine. Failing to resist my creatice impulses, I downloaded the demo program and played around with it for some time. As the programming dummy I am, I liked the simple layout of the program and the big colourful buttons to click on. I thought to myself: "Hey – I think I can do a F1 game!"
Autumn 2008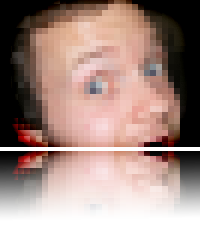 It all began in front of the tv watching Monza in 2008. For some reason was truly facinated by the F1 circus with it's speed, playfulness and excitement. Plain simple – i liked it! My pixeled eyes where now opened for F1…