About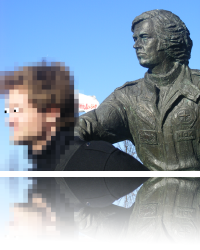 About (2011)
F1-game-download.com gives you a simple, funny and cool formula 1 game based on the real F1 season. That means real drivers, real tracks and real teams all covered in sublime 2D graphics and crazy composed racing music.
The game is being made by the swedish/dutch team Emil and Jeroen, whose passion for F1 and game making results in this breathtaking racing game.
Please use the demos for free and feel free to contact us (or the forum) if you have ideas or questions!
/Emil
About (2010)
This is the homepage for people who like to play and develop retro F1 games based on the present season (2010). The developer (me) is a guy from sweden who likes F1, retro games and composing unnerving MIDI music.
My goal this year is to make one cool Time Track game per circuit in Formula One 2010. There will be 19 games. My goal is also to make corny midi music to every game and make the music feel like the circuit's nation.
Because it's the first time I make a game, a lot of time and work will be put on the circuits, music and the basic game physics this year. Perhaps, if people (including myself)tend to like the games, I can focus more on game experience for the next season (2011). That would be great fun…
Please use the games for free and please contact me if you have ideas or questions!
/Emil